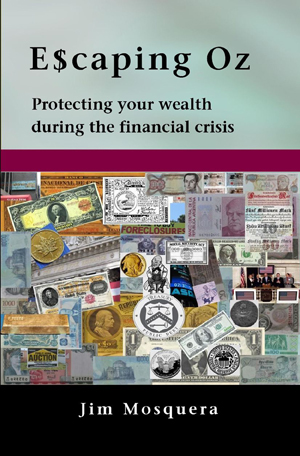 Can the financial Wizards save the economy and the markets?
19.95
Publisher:

CreateSpace Independent Publishing Platform

Editor:

Jim Mosquera

Available in:

Paperback, PDF, EPUB, Kindle

ISBN:

978-1453891216

Published:

November 27, 2010
Buy on CreateSpace
Buy on Amazon
Synopsis
The financial shocks to our economy left the public dazed and confused. How could this have happened? Can't the Federal Government and the Federal Reserve fix this? Who is responsible for this mess? What can I do to help myself and the country?
The answers to these questions are revealed inside. These answers are important not just for your family's welfare but for the broader goal of our country's future – both political and economic. Politics and economics will become inseparable in the years ahead.
It will simply be impossible to have meaningful dialogue on the weighty matter of our economic future without an understanding of how we got here.
Escaping Oz presents a very basic, fundamental description of our journey to these problems and what you can do to deal with the crisis. This is not a book about assigning blame or dealing in conspiracy theories. It is a very no-nonsense detailing of how we got here and what we should do to escape the financial quagmire. Those expecting a rescue from our "Wizards" will be placing their welfare in peril.
Reader Opinions
Common sense for uncommon times

Financial planning for everyone!

An easy read and explains complicated financial information in terms that a layman can understand

Click HERE for more opinions.
Excerpt
Audio Sample